TRAINING on IP for Start-Ups (TIPS_ ~ bAsic) [April 26-28, 2022]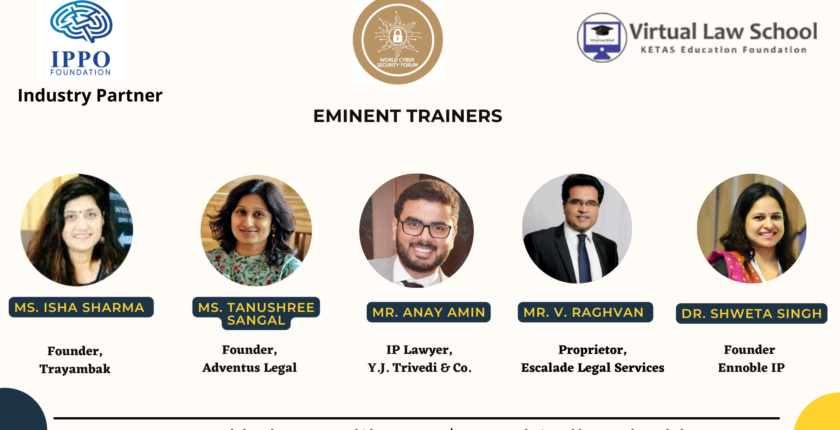 ABOUT WORLD CYBER SECURITY FORUM
The World Cyber Security Forum (WCSF) is a worldwide renowned cyber consultancy and web community that aims to raise awareness about various internet issues and serves as a source of techno-legal information for professionals, students, and citizens all over the world. WCSF is not only restricted to giving legal-techno consultancy but also Provide free counseling to those who are in need, as well as workshops, training, and accredited courses for all. The organization also deals in contract administration and contract management. Individuals are also educated on the most up-to-date cyber news and surveys through the firm. WCSF has been providing fair information to professionals on myriad security concerns that they face on a daily basis as a dedicated cyber security platform.
ABOUT VIRTUAL LAW SCHOOL
Virtual Law School (VLS) was founded during national lockdown in April 2020 as a purely teaching initiative. Since then VLS has facilitated law classes and critical thinking webinars/workshops for thousands of law students from across the country. It only offers certificate course and does not offer any diploma and degree. VLS promotes easy and affordable access to legal education. At VLS, Pro Bono Law Teachers and resource persons include Former Judges of Supreme Court & High Courts, Senior Lawyers, Senior Law Professors, Vice-Chancellors, Registrars of NLUs, well accomplished law scholars, foreign judges and professors, law firm and corporate professionals and civil society subject experts. VLS works on a unique concept of accepting donation of pro bono teaching hours. Most of its courses are either pro bono or low bono only to cover the cost of this project. No one draws any monetary compensation from VLS.  Hence, all its resource persons teach on a pro bono basis. And VLS is registered as a not for profit organization u/s. 8 of Companies Act, 2013 under the aegis of KETAS Education Foundation.
About IP Promotion Outreach Foundation (IPPO)– (Industry Partner)
IPPO is a knowledge forum facilitating various IP Awareness Programs, Short term Certificate Courses as well as Expert Oriented Customized Training Sessions.  Enhancing the Intellectual Property knowledge and skills and rights of any individual with regard to innovation, invention, and rights thereof, is our main aim. In order to benefit the society at large, we conduct various Intellectual Property courses and specialized programs customized to the needs, thereof. Our relentless efforts have been directed at students, entrepreneurs, individuals, corporate, startups and Members, and many.
About the TIPS~bAsic
On World IP Day 2022, WCSF & VLS Jointy presents Training on IP for Start-Ups (TIPS) ~bAsic for Start-Up Entrepreneurs, aspirants of launching Start-Ups and Early Career Lawyers. The training aims at facilitating fundamental training on planning and launching Start-Ups vis-à-vis protecting Intellectual Property that may be invested or created by virtue of such a venture. This is meticulously designed to empower the Start-Up stakeholders.
Protection of intellectual property is a vast field and needs of Start-Ups may vary widely. Therefore, in order to provide a customized solution and training vis-à-vis distinct needs of IP protection for Start-Ups, we will offer advanced trainings on Trademark, Copyright, Patents, Designs and Trade Secrets after the completion of basic training.
This training is curated in consultation with Industry Experts who will also conduct LIVE sessions for the participants. We offer following sessions as part of this training:
SESSIONS

DATES

TRAINERS

Session I: Setting up Start-Up

How to start up- why business, Vision, Focus Area- Entrepreneurship

Are you already an Entrepreneur with a Start-Up?

Are you planning to launch a Start-Up?

Start-Up India Certificate

Know your Strengths

Start-up Check List

Idea Plan Check List

April 26
Ms. Isha Sharma

(Founder, Trayambak & Viadroit, Noida)

 
 
 
Session II: IP Need Assessment for Start-Ups

Why you need IP?

At what stage of your Start-Up IP protection is necessary?

April 27
Ms. Tanushree Sangal

(Founder & Startup-Consultant, Adventus Legal, Lucknow)

 
 
 
Session III: Start-Up Market Assessment

Domestic IP vs. Global IP

Domestic market vs. Global market?

April 27
Mr. Anay Anim

(IP Lawyer, Y.J Trivedi & Co., Ahmedabad)

 
 
 
Session IV: Registration of IP

Basic Functional Knowledge of IP Protection for Start-Ups

 April 28
Mr. Venkata Raghavan

(Proprietor, Escalade Legal Services, Bengaluru)

Session V: Protecting IP in MedTech

Protection of IP for Med Tech Start Ups in COVID Times

 April 28
 Dr. Shweta Singh

(Founder, Ennoble IP, Noida)
REGISTRATION DETAILS
Please register by using this Google form
The last date to register is April 25, 2022.
BENEFITS OF ATTENDING TRAINING
Live & interactive sessions will be held.
E – Certificates will be provided to all the participants.
Action Orientation Training.
Networking with influential entrepreneurs & Start-up Consultants.
Consultation on start-ups operations & IP challenges.
FEE STRUCTURE
CONTACT US
www.worldcybersecurities.com  | www.virtuallawschool.in