South Asian Disability Colloquium 2023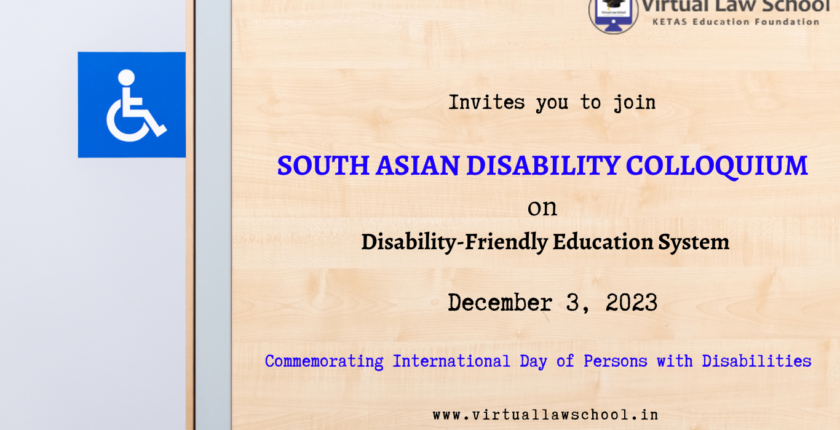 South Asian Disability Colloquium (SADC) 2023
Theme 2023: Disability-Friendly College Campus & Education System
Organized by –
Virtual Law School, KETAS Education Foundation
Event Dates: December 2-3, 2023 (Saturday- Sunday)
Submit Entries by- November 20, 2023
______________________________________
Concept Note
0.1% of students with disabilities are enrolled in primary education in India. The situation is more grave, with merely 0.01% of students enrolled in secondary education In India. In the case of female students with disabilities, it is an everyday nightmare to access education with dignity. This concern is alarming and spine-chilling because of the extreme support for research and analysis on this issue. Failing this, civil society organizations and disability rights stakeholders continue to lose the battle of ensuring disability-friendly college campuses and inclusive education.
This is highly unfortunate, and the story won't change without community support for disabled students. To foster a structural change benefiting students with disabilities, a comprehensive assessment of our college campuses, enrolment policies, examination rules, scholarship rules, and teaching policies is desirable. An organization that taught approx. 10,000 students (including students with disabilities) free of cost during the outbreak of COVID-19, and the National Lockdown In India is launching an "South Asian Disability Colloquium". This will be an annual event by "Center for Study on Disability Inclusive Society (CSDIS)" of Virtual Law School, KETAS Education Foundation.
1st SADC invites applications on empirical research based submissions on the theme for 2023 "Disability-Friendly College Campus and Education System". The authors of the submissions will be invited to present their entries at 1st SADC in an online mode on December 3, 2023, commemorating International Day of Persons with Disabilities.
SADC 2023 Topics for Submissions
The submission are invited for the 1st SADC on "Disability-Friendly College Campus and Education System" on the following topics:
Percentage of students with disabilities enrolled from the start of college till date (Year-wise breakup).
Disability-friendly college infrastructure (hostels, examination centers, academic blocks, canteens, etc.).
Disability-compliant admission, examination, scholarship, and college academic policy.
Disability-friendly classroom teaching, peer-to-peer learning, library facilities (access to reading literature in Braille).
Disability sensitization workshops and the approach of the college in general.
Reflections on students with disabilities and their caregiver friends on disability-friendly college campuses.
Special Facilities for Female Students with disabilities.
Submission Guidelines
Submissions shall be in the form of an empirical research report in reference to a specific college.
Word limit: No write-up can be of more than 1500 words (excluding footnotes) in OSCOLA 4th Edition format.
Maximum 5 (five) co-authors are allowed for each submission.
Single author can also make submission.
Each team can comprise of authors only from a college.
Submissions shall mandatorily include latest, authentic and verifiable pictures to prove the authors' claim.
Submissions must compulsorily include a maximum of 5 minutes video based on the report in the form of a documentary.
Who can submit entries and participate?
Students of undergraduate and postgraduate courses of any college in South Asian countries.
M.Phil and Ph.D. scholars enrolled with any college in South Asian countries.Important Dates
Important Dates
Last Date for Submission of Entries:

November 20, 2023

Selected Entries for presentation will be notified by:

November 25, 2023

Presentation Schedule will be notified by:

November 28, 2023
Registration Fees: INR 750/- per team
Recognition & Prizes
Best Submission and Presentation Award
2nd and 3rd Best Best Submission and Presentation Award
Best Video testimonial complimenting written submission
2nd Best Video testimonial complimenting written submission
Write to us for queries at [email protected]