META LEGAL ROUNDTABLE – Call for Proposal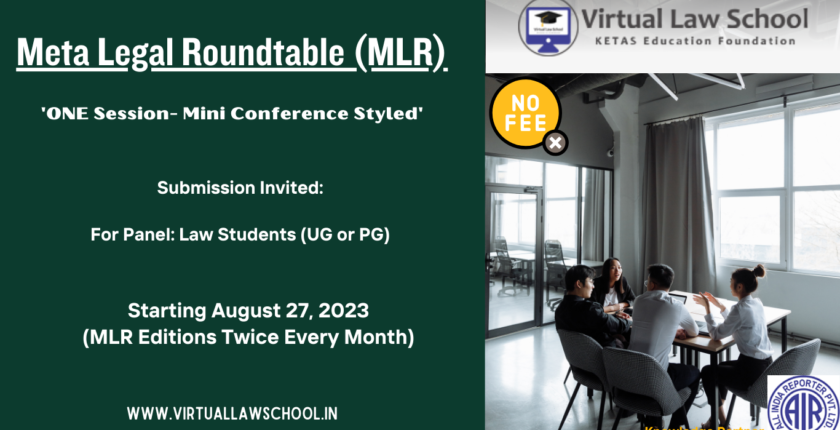 META LEGAL ROUNDTABLE –One Session- Mini Conference Style
(Round the year on a Rolling basis)
Online Event | No Registration Fee
CALL FOR PANEL PROPOSAL
_________________________
Meta Legal Roundtable (MLR) is an innovative online discussion forum that will operate like a 'One Session- Mini Conference Style'. The basic objective of MLR is to encourage continued debate on contemporary legal issues cutting across governance, judiciary, education, business and other major subject matters.
MLR is envisioned as a serious and very responsible exercise where panels will be invited to lead the discussion in each MLR session.
The primary objective of MLR is to foster a vibrant platform to bring together law professors, judges, lawyers, law students and other practitioners who may wish to engage on topics of MLR and present their analysis, thoughts, experiences and contemplate the future of law in various discourses of deliberations. Through interactive discussions, participants will gain valuable insights into the practical implications of new laws and regulations.
We invite Call for Panel Proposal for MLR 2023 Editions!
About MLR:
Panel will consist of invited discussants/speakers. A minimum of three and maximum of four members mandatory to form a panel.
Who can submit a panel proposal?
Students Panel: Students of 3 year or 5 year law program or LLM students can collaborate and form a panel of three discussants/speakers.
Interested discussants are expected to form their own panel and submit a proposal for consideration for the notified MLR Editions of 2023.

Rules for Panel Submission
Panel can be of students from same or different colleges.
One Panel of discussants/speakers cannot resubmit unto next ten MLR Editions so that other students also get equal opportunity to lead the discussions.
Interested Panel must submit- Sub-issues for assigned topic which each discussants/speakers will deal with, names and institutional affiliation details of discussants/speakers.

Allotted Time: Each Speaker will be allotted 15 mins for presentation, followed by 30 mins of Q&A open to all in the audience.
Any one Panel Member may only submit the application form and shall designate himself/herself as Lead Speaker. Each member shall not separately fill the form.
Email communication will be shared by email and WhatsApp as per information given in the submission form only.
If any panel may back out at the last minute or any discussant/speaker may back out, such discussants/speakers will not be allowed to lead the panel for discussion next time in MLR.
Moderator: MLR Edition Guest Moderators will be identified through invitation.
Online Platform: Zoom
MLR Schedule for 2023:
Inaugural MLR Edition: Aug 27, 2023 [Sunday] | Time: 11:00 am to 12:30 pm
Topic: Data Protection Regime for India
MLR 2nd Edition: September 10, 2023 [Sunday] | Time: 11:00 am to 12:30 pm
Topic: Mediation Law: Need, Utility and Road Ahead
MLR 3rd Edition: September 24, 2023 [Sunday] | Time: 11:00 am to 12:30 pm
Topic: Uniform Civil Code- Plugging the Constitutional Gaps
MLR Key Features:
Panel of Enthusiastic Law Students: A carefully selected panel of passionate law students from diverse backgrounds will form the core of the forum. Their unique insights and viewpoints will drive engaging conversations.
Latest Laws and Regulations: Each session will focus on specific recent laws or regulatory changes, encouraging participants to explore the real-world impact of these legal updates.
Interactive Dialogue: The discussions will be interactive and engaging, allowing participants to ask questions, share experiences, and challenge each other's perspectives.
Expert Moderation: A seasoned legal professional will moderate the discussions, ensuring that conversations stay on track, promoting inclusivity, and offering expert insights when necessary.
Thematic Approach: Each session will have a central theme, enabling participants to delve deep into the nuances of various legal topics, ranging from technology and privacy to environmental regulations.
Inclusive Participation: We encourages students from various law schools and backgrounds to participate, promoting a rich diversity of ideas and perspectives.
Digital Accessibility: The online format ensures that participants from different geographical locations can conveniently join the discussions without any barriers.
BENEFITS
AIR Subscription for each Panel discussants/speakers.
AIR Subscription for each MLR Moderator
AIR Subscription to the Most Engaging Participant
Learning Beyond the Classroom: MLR extends learning beyond traditional classrooms, enabling students to gain practical knowledge about the latest legal developments.
Networking Opportunities: Participants will have the chance to connect with peers, build relationships, and create a supportive network within the legal community.
Enhanced Communication Skills: Engaging in thoughtful debates and discussions will help participants refine their communication and argumentation skills.
E- certificates to all participants