Session on "Investigating Cyber Crimes" [Jan. 8 @ 08:00 PM IST]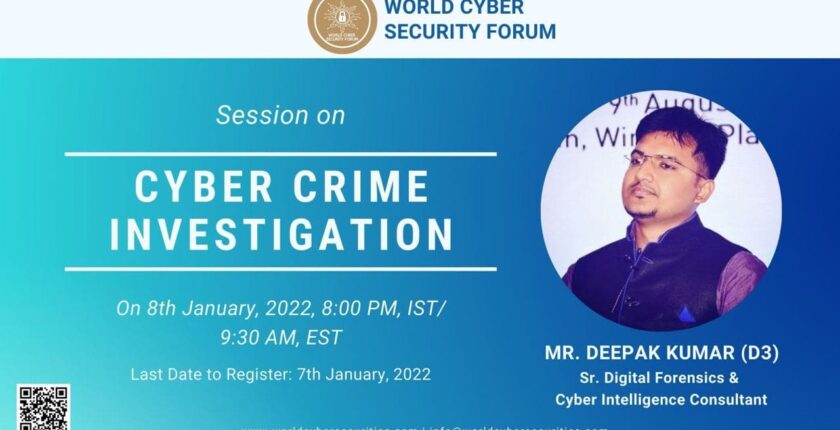 ABOUT WORLD CYBER SECURITY FORUM (WCSF)
World Cyber ​​Security Forum (WCSF) is an internationally renowned cyber consultancy and web community that aims in improving cybersecurity awareness and acts as a source of techno-legal information for professionals, students, and teenagers around the world. It offers a blend of original content from IT professionals, peer-to-peer advice from the largest community of IT leaders, and an extensive library of professional resources from leading IT industry vendors.
ABOUT THE SESSION
The cyber crime investigation is the process of investigating, analyzing and recovering critical forensic digital data from the networks involved in the attack which could be the Internet and/or a local network in order to identify the perpetrator of the attack. Many special provisions for detecting cybercrime have been included in the Information Technology Act, 2000 and various Information Technology Rules.
The World Cyber ​​Security Forum (WCSF) is organizing a session on "Investigating Cyber Crimes: A complete guide" on January 8, 2022 at 8:00 PM (IST) / 9.30 AM (EST)  to learn and understand the tools and techniques for cybercrime investigation and the regulations enacted for the same.
ABOUT THE SPEAKER
Mr. Deepak Kumar (D3) is Sr. Digital Forensic & Cyber Intelligence Consultant. He has been working on several consulting and investigating engagements with organizations such as Academia, Corporates, International Law Enforcement Organizations, Government sectors & PSUs. He is presently engaged with Indian Government projects related to Security Operation Centers, Cyber Threat Intelligence Coordination and Capacity Building for Cyber Crime & Digital Forensics domains. He holds professional International certifications skills in areas of Operational & Cyber Security, Digital Forensics, Social Media Intelligence, Incident & Response, Blockchain, Industrial Control Systems, Fraud Detection, Counter-Terrorism & National Security, etc. He is presently:
Chair Member in National Cyber Safety and Security Standards, India.
Active Member of the International Cyber Threat Task Force (ICTTF) # Editorial Technical Committee Member in Digital 4n6 Journal.
Technical Sr. Cyber Crime & Forensic Advisor/Investigator to various Law Enforcement Agencies in India & African Countries.
He has been awarded with various industry-recognized certifications; received several appreciations from senior officials from ministries, law enforcement, defence organizations, academia and media as well.
REGISTRATION PROCESS
Please register by using following link: https://forms.gle/YNUrQLu8WY38vcrY6
Last date to register is 7th January, 2022.
The session is free of cost and no fee is being charged by WCSF.
PERKS
Following are the perks of attending the session on cyber crime investigation:
Participation certificate to all. (T&C Applied)
10% discount on upcoming courses or workshops. (Any One Only)
Live query session with the expert.
CONTACT INFORMATION
Mail: [email protected]
Join our WhatsApp Group or Telegram Channel for more updates.
Please visit our official website.