FREE Webinar: Wings of Passion [Dec. 11- Limited Slots]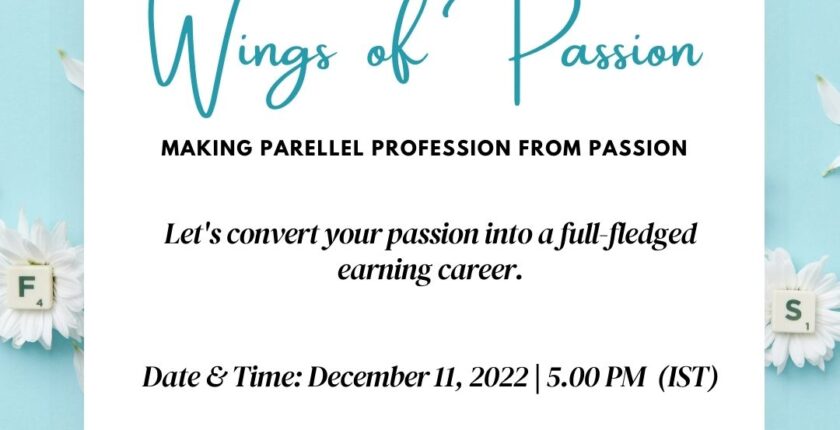 FREE Webinar: Wings of Passion (Turning Hobbies into Money Making Career): Dec 11, 2022 | 20 Slots Only | Register Now!
About Corporate Diary
Corporate Diary is an initiative led by Ms. Pakhi Garg who is a proud Co-Founder of a successful Start-up on Cyber Law & Cyber Security named, World Cyber Security Forum.
Ms. Garg represents young women entrepreneurs in her home State Uttarakhand and is committed to promoting women to emerge as successful entrepreneurs. Corporate Diary is her brainchild to provide personalized mentorship and coaching to young professionals, job seekers, and students by making them ready for discovering their career choice. This initiative would cater to students and professionals from across the country. Whether you are an intermediate student, college student, or employed, we will help you in every aspect. Our team comprises industry experts who will be mentoring you throughout your journey while keeping the practical approach in mind.
About Event
We all have some inner sense of passion for something other than our bread-earning technical vocation. What is that for you?
Do you love photography?
Are you a music lover and love to write music notes and sing?
Do you love painting?
Do you love to please food palate? Do you love baking, cooking, etc.?
Are you good at raising emotions with your acting or theatre?
Do you have the zeal to write & wanted to get fame out of it?
We all live in an alternate world within ourselves. But we often do not have enough time to speak out, share and even imagine the deep strength of our passion and countless possibilities of creating an alternate profession out of them.
Wings of Passion Workshop brings to you a 'Khula Manch' to pour out your thoughts, and feelings and freely discuss your hidden talent with us.
Persons passionate about photography, music, painting, cooking, and acting will meet and will unfold the wings of passion.
Ms. Pakhi Garg will help you look for new courses and a sea of opportunities to explore your passions for a better tomorrow and start making money out of it.
Register Now
Time, Date & Medium : December 11, 2022 | 5.00 PM, IST | Google Meet
E- Participation Certifications will be provided to all the active attendees.
Contact Now
Website | Mail | LinkedIn | Instagram