Free Webinar- Law School Admissions 2022 on July 17 @ 12 Noon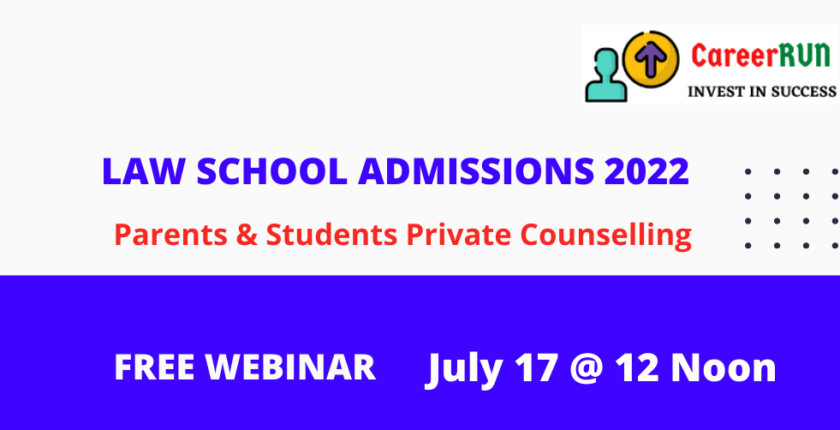 Simple Steps to Law School Admission 2022- Puzzled? Let us try to help you.
Join our FREE WEBINAR – Law School Admissions 2022 (Parents & Students Private Counselling)
Date: July 17 (Sunday)
Time: 12:00 Noon- 01:30 PM
Limited Seats- Online Room will be locked after Limited Entry.
This is a unique Private Counselling Session for the first time offered in Legal Education Space.
Essential Requirements:
Video-Mode On
Compulsory Registration
Disclosure of Correct Profile
Our Expert Dr. Nachiketa Mittal will help you find answers to Discomforting Questions:
Appeared in CLAT 2022 but did not get high rank !
Which NLU to choose?
If not NLU- which Central or State University College to Choose?
Which Private University Law School to Choose?
Criterion for selecting law school?
How to rely on rankings for law school?
How to determine internal good practices of a law school?
How to scrutinise faculty profile?
Are Placements 100% guaranteed?
And much more…..
Our Expert will hold a Session with and your Parents and Guide you properly with a detailed reasoning which Law School to Choose and Why. We will encourage both student and parents to join us on a Video Conferencing Session and ask all questions related to admission. We offer well founded opinion based on true merits involved in case of any institution not merely guided by rankings which are also often doubtful in nature.
Register Here for a FREE WEBINAR
Join my Network for Regular Updates
WhatsApp | Telegram | LinkedIn