2 Months Certified Course on "IT Act 2000" [Starting Jan. 20]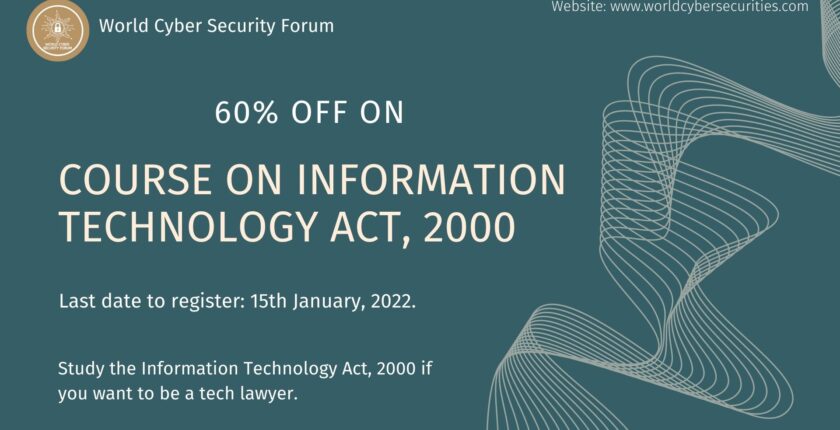 Course Outline
The Information Technology Act, 2000 provides legal recognition to the group action done via electronic exchange of information and alternative electronic suggests that of communication or electronic commerce transactions. This also involves the utilization of alternatives to a paper-based technique of communication and knowledge storage to facilitate the electronic filing of documents with the government agencies. This law regulates all e-transactions and e-crimes and brings them under the legal purview.
The world is moving very quickly & being a netizen you should be aware about it so that you will be able to understand some procedural as well as practical pointers. Hence, the World Cyber Security Forum has brought a 2 Months course on India's Information Technology Act.
Course Structure
The following is the course structure of "Certified Course on Information Technology Act, 2000" This course is divided into 6 modules:
Module 1: Introduction and Background of IT Act

Module 2: E-Governance, Digital and Electronic Signatures

Module 3: Certifying Authorities and E-Signatures

Module 4: Dispute Resolution under IT Act

Module 5: Cyber Offences

Module 6: Miscellaneous & Amendments
Course Mode: Online
Course Duration
2 Months (20th January, 2022 to 19th March, 2022)
Course Language: English
Course Medium
Classes will be online with weekly live sessions where the course faculty will clear all the doubts of the student & explain some topics.

Extra classes can also be taken depending on the request of the majority of students in the batch.

Course Examination Dates
    (Exact Dates: to be notified later)
Course Examination Pattern & Evaluation
The course evaluation is based on two parameters:
Paper 1: MCQ Based Exam.

Paper 2: Subjective Question Based Exam.
Both the papers together carry 200 marks. The candidate is required to acquire at least 50% marks. However, in case of failure, the candidate can retake the examination with the next batch with the additional payment of Rs. 500/-.
Course Fees
The course fee is just 2499 INR but we are offering 60% discount to all the attendees of this session after which it will be only 999 INR. (Please use coupon "NEWUSER60" at the time of billing to avail the discount).
Link to Register for the course:
https://www.worldcybersecurities.com/courses/certified-course-on-the-information-techn ology-act-2000/
Miscellaneous
18 Hours of live weekly classes will be taken along with query sessions.

Unlimited lifetime access to the course material.

Recording of all live sessions.

3 Hours of tailored one-on-one career and job counselling sessions with industry

experts.

One time CV assessment and specialized tech lawyer training.

Lectures from industry experts on a variety of topics.

Access to PPT & videos related to the topic.

Exclusive Half Yearly Membership of WCSF free for all.

E-Certification of Merit or Appreciation for all.

1 blog publication for free (it has to complete the screening process).

20% discount on digital publication for all.

20% discount on other related courses for meritorious students.

Internship opportunity with WCSF for meritorious students.

Contact:

Have more questions, please WhatsApp us on: +91 9315049547