Legal Research and Writing Workshop [Registrations Open]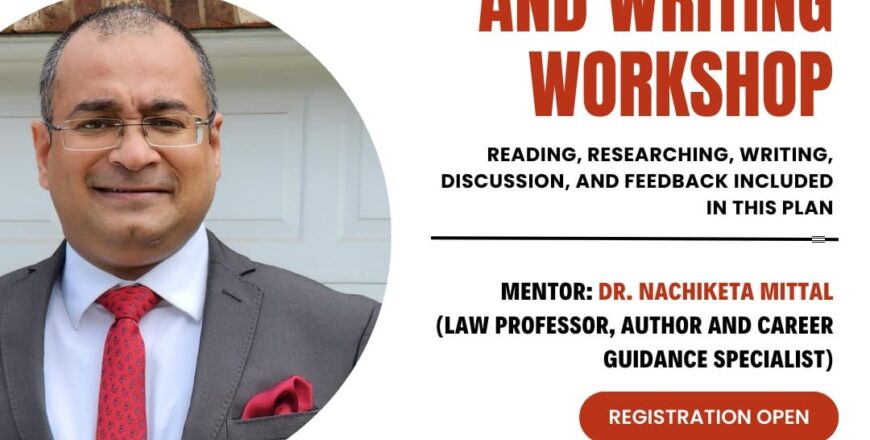 About the Workshop
Legal research and writing is a non-negotiable and the most vital component of a law school journey. It eventually becomes one of the regular tools for a legally trained person irrespective of a professional vocation one may choose. 
While law schools try their best to teach research and writing skills, it continues to remain a bottle-neck for most law students. Due to time constraints, often the law students are not provided real time hands-on training to research, internalize thoughts, develop clarity of thoughts, chew thoughts, think in the language of writing, discuss thoughts for cross-fertilization of ideas and then start writing each sentence with a cogent reasoning,  justifiable argument and cross-verifiable reference sans any form of plagiarism. Mere writing a short blog article or any piece of longer article in English language is not enough. Several factors determine the quality of a worthy article that may not only grasp readers attention but may offer a recognizable contribution on the topic. 
Agenda and Benefits of the Workshop
This workshop is uniquely curated to provide law students this real time hands-on experience and training on:
Researching and deciding a topic

Shortlisting readings 

Habit of reading 

Developing mental framework on the researched topic

Starting to write 

Writing with cogent reasoning and verifiable claims

Avoiding plagiarism

Writing not with an aim to claim fame but writing to make a worthy argument
Uniqueness of Workshop
Participants will discuss everything whatever they have learnt on a regular basis with their mentor in this LIVE workshop.
Disclaimer: This course is not meant for anyone who wants to claim overnight fame by publishing an Op-Ed piece in a popular media, etc. The course will instead prepare you to start writing a piece worthy of publication as well as inculcate a sustainable habit of indulging in a serious exercise of researching, mental preparation and lastly a humble attempt to write.
Workshop Plan
Reading, researching, writing, discussion, and feedback will be included in this plan.  
Who can attend? 
Category I: Students of 3 (three) years or 5 (five) years law course

Category II: LLM candidates and graduates with less than one year of work experience
Fees
Category I: Students of 3 years or 5 years law course– INR 999/-
Category II: Graduates or LLM candidates – INR 1499/-
Batch Size: Maximum 5 (five) participants per batch 
There will be multiple batches but each batch will have a maximum of five participants.

Batch will start on a first cum first serve basis. 

Note:

Given the high intensity workshop, batch size is planned to be kept very small to ensure personalized attention for every applicant. 
Course Instructor
Dr. Nachiketa Mittal, Law Professor, Author and Career Guidance Specialist
New Batches from
April 20 -24: Five Seats Left
May 4-8 : Five Seats Left
Certification
After successful completion of this workshop, attendees will be awarded Certificate of Completion.

1 (One) Participant from each batch will be awarded a

Certificate of  Excellence

.

Awardee of Workshop Excellence

will get an opportunity to be legal researchers with due acknowledgment for a Book Edited by Indian and Foreign Professors and Lawyers. 
Students of 3 (three) years or 5 (five) years law programme or LLM candidates and recent graduates with less than one year of work experience.
No take home assignments will be provided. All assignments will have to be done during LIVE Class itself.
Be the first to add a review.
Please,
login
to leave a review