Civil Procedure Code-II (50 Hours)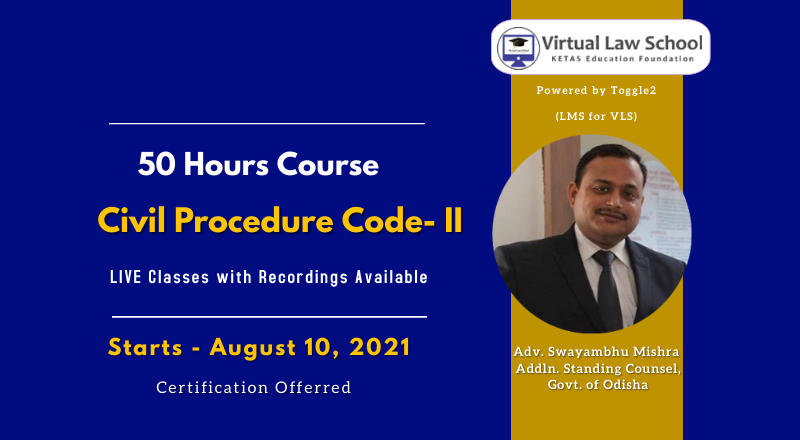 Read Payment Instructions below before making the purchase
INTRODUCTION
This course introduces procedural rules that govern civil litigation in India. It contains various stages of a case-flow in civil court and application of the rules of civil procedures ranging from commencement of proceedings to enforcement of judgments. The aim is to give the student a practical insight into the civil courts' process in order to equip them to solve procedural issues and carve out options that may be adopted in any civil case. The teaching should involve a step by step guide of the case-flow and incidental and ancillary processes. A brief scheme of the case-flow is provided herewith for the students understanding to keep them informed about the various stages.
LEARNING OBJECTIVES OF THE COURSE
This Course aims at providing the learners with practical aspects of Code of Civil Procedure by equipping them with better understanding of:
Filing of Written Statement, Counter Claim, Set Off in Civil Cases;

Issues involved in examination of parties in civil proceedings;

Admissions & Framing of Issues which are critical stages of civil proceedings;

Judgment, Decree, Injunctions and Inherent Powers- from practical perspective.
Note: Case List and Suggestive Readings will be provided to the registered candidates only after the commencement of the class.
Payment Instructions:
Click the Get Course Button

Check Out Page will Open

Verify the Courses selected by you

You will see two Payment Options. Offline Payment using UPI Code (mentioned there) Or Wire Transfer (Internet Banking Details)- Pay using any Payment option

Finally- Click Purchase

We will verify the payment received & confirm your purchase

Check 'My Orders' and you will be able to access your course. 

Hurray! It's Done- Join us soon 🙂

Call us or Whatsapp at +91-70416-32600, if you face any problem. 
1
Order VIII — Written Statement / Counter Claim / Set off
1
Parties to suits – Order I
1
Issuance and service of summons – Order V
1
Appearance of Parties and Consequences of Non-Appearance
1
Examination of parties – Order X
1
Referral to ADR – S. 89 r/w Order X- A
1
Discovery and inspection – Order XI
1
Interrogatories – Order XI, Rules 14 – 15
1
Admissions – Order XII, Rules 2 and 2A
1
Amendment of Issues – Order XIV, Rule 5
1
Powers of court to examine witnesses or documents before framing Issues – Order XIV, Rule 4
1
Judgment, Decree – Preliminary and Final Order XX
1
Appointment of Commissioners – Order XXVI
1
Bringing on Record Legal Representatives – Order XXII Rule 4
1
Suits by or against minors and persons with unsoundness of Mind – Order XXXII
1
Injunctions – Order XXXIX
1
Arrest and attachment before judgment – Order XXXVII
1
Suits by or against Government – Sections 79-82 and Order XXVI
1
Inherent Powers – Section 151
FREE 30 mins Career Counselling Session (worth INR 600/-) with this course.
Be the first to add a review.
Please,
login
to leave a review