Law of Arbitration (30 Hours)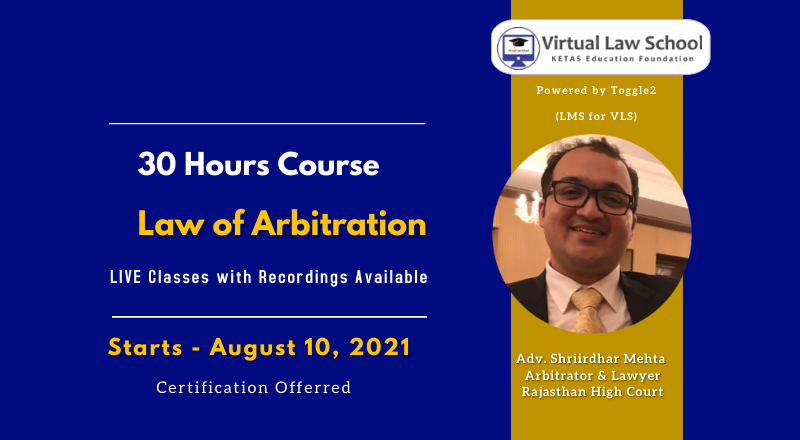 Read Payment Instructions below before making the purchase
INTRODUCTION
The Alternative Dispute Resolution mechanism, as the name suggests, evolved against the conventional method of dispute settlement by courts. It is not disputed to state that courts take ample time to settle any dispute as well as they are expensive too. On the other side, ADR mechanism is less bound by procedural formalities and speedy in giving results. For this reason ADR is appreciated by many countries around the world. India also became part of this change in the year 1996 when it enacted the Arbitration and Conciliation Act. The Act is replica of the UNCITRAL Model Law.
The course is designed in a way that it will give the students insightful knowledge about this emerging area. The goal of the course is to help the students to understand the various methods of resolving disputes under ADR system, so that they can help their clients and society to select and employ the most effective, just and humane methods.
LEARNING OBJECTIVES OF THE COURSE
This Course aims at giving you an overview of the course- 'Alternative Dispute Resolution (ADR)'. Its goals are:
To equip prepare students with Toolkit of techniques/methods of ADR & Arbitration;

To prepare students to identify the importance of ADR & Arbitration in justice delivery;

To prepare students to identify the legal matters that can be resolved through ADR & Arbitration techniques/methods;

Above all, to prepare students to supplement the regular dispute resolution (RDR) methods of litigation with ADR & Arbitration techniques/methods and emerge as lawyers practicing and promoting use of ADR for expedient justice delivery.
Note: Case List and Suggestive Readings will be provided to the registered candidates only after the commencement of the class.
Payment Instructions:
Click the Get Course Button

Check Out Page will Open

Verify the Courses selected by you

You will see two Payment Options. Offline Payment using UPI Code (mentioned there) Or Wire Transfer (Internet Banking Details)- Pay using any Payment option

Finally- Click Purchase

We will verify the payment received & confirm your purchase

Check 'My Orders' and you will be able to access your course. 

Hurray! It's Done- Join us soon 🙂

Call us or Whatsapp at +91-70416-32600, if you face any problem. 
1
Arbitration and Arbitration Agreement
Methods of dispute settlement (judicial and non-judicial)
Definition of Arbitration
Arbitration agreement
Referring dispute to arbitration
Interim measures, etc. by Court
1
Composition of Arbitral Tribunals
Appointment of arbitrators –number of arbitrators
Fourth Schedule to Arbitration and Conciliation Act, 1996
Grounds and procedure for challenging mandate of arbitrator
Termination of mandate and substitution of arbitrator
1
Jurisdiction and Conduct of Arbitral Tribunals
Competence of arbitral tribunal
Interim measures ordered by arbitral tribunal
Equal treatment of parties
Determination of rules of procedure
Seat-place-venue of arbitration
Commencement of arbitral proceedings
Procedure- hearing and written proceedings
Default of a party
Court assistance in taking evidence
1
Decision making by arbitral tribunal
Time limit for declaring arbitral award
Fast track procedure
Forms & contents of arbitral award
Regime for costs
Termination of proceedings
1
Recourse against Arbitral award and Finality
Setting aside of arbitral award
Finality of arbitral awards
Enforcement
FREE 30 mins Career Counselling Session (worth INR 600/-) with this course.
Be the first to add a review.
Please,
login
to leave a review