Constitutional Law – II (50 Hours)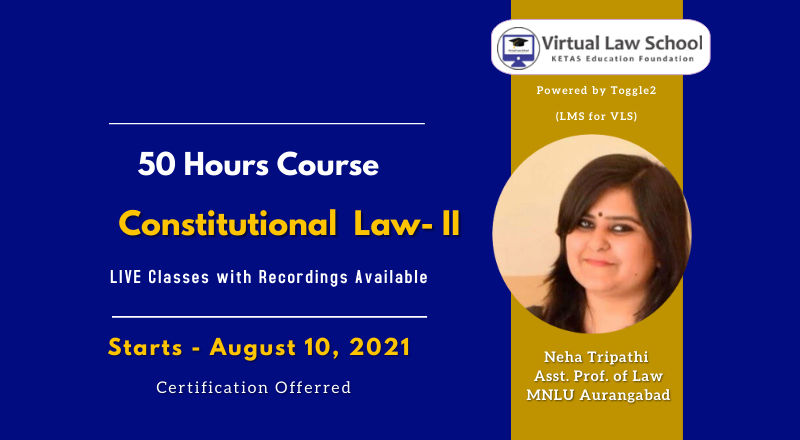 Read Payment Instructions below before making the purchase
INTRODUCTION
This course aims at introducing the student to several methods of construing the meaning of constitutional provisions. The course is designed primarily to assist the student in developing knowledge of constitutional doctrine and to acquaint him/her with the basic legal principles under-girding the Indian Constitutional Law. It is an attempt at finding answers to some of the most basic questions, such as what is a Constitution. Why we need a Constitution?  How is it made? What should it contain? What are the various types of Constitutions? How is it amended?  Can Parliament rewrite the Constitution? Why judicial review is needed? What is the difference between judicial review and judicial activism? What is the current debate about judicial activism v. judicial restraint? Does Parliament have the power not to codify its privileges?
LEARNING OBJECTIVES OF THE COURSE
This Course is mostly focused on the learning outcomes: At the end of the course, students should be able to:
To make students understand the art of reading and interpreting the Constitution.
To equip students in comprehending historical evolution of constitutional doctrines, standards, and tests.
To make students examine and analyse the various interpretations given to Constitutional provisions by the Supreme Court of India and the High Courts.
Note: Case List and Suggestive Readings will be provided to the registered candidates only after the commencement of the class.
Payment Instructions:
Click the Get Course Button

Check Out Page will Open

Verify the Courses selected by you

You will see two Payment Options. Offline Payment using UPI Code (mentioned there) Or Wire Transfer (Internet Banking Details)- Pay using any Payment option

Finally- Click Purchase

We will verify the payment received & confirm your purchase

Check 'My Orders' and you will be able to access your course. 

Hurray! It's Done- Join us soon 🙂

Call us or Whatsapp at +91-70416-32600, if you face any problem. 
1
Inter-relationship between Directive Principles of State Policy and Fundamental Rights
1
Constitutional Scheme of Distribution of Powers between the Union and the States
1
Nature and Extent of Executive Power
1
Election of President and Appointment of Governor
1
Ordinance Making Power of the President and Governor
1
Composition, powers and functions of Parliament and State Legislature
1
Law Relating to Defection
1
Jurisdiction of the Supreme Court
1
Amendability of the Constitution
FREE 30 mins Career Counselling Session (worth INR 600/-) with this course.
Be the first to add a review.
Please,
login
to leave a review